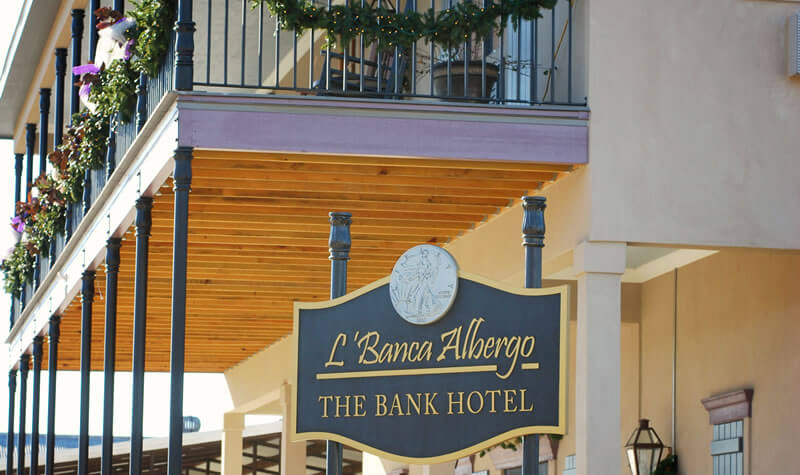 L'BANCA ALBERGO
(THE BANK HOTEL)
Our Parish's newest boutique style hotel, with 8 luxury suites, wine vault, scenic balcony and all the amenities.
233 Arthur Avenue (exit 64 south on La. 26)
Lake Arthur, LA 70549
(337) 774-7249
www.labankhotel.com
DAYS INN
CURRENTLY CLOSED FOR RENOVATIONS. EXPECTED REOPENING IN OCTOBER 2021
123 rooms near the main I-10 access (Exit 64 South) breakfast, coffee maker and blow dryer in room, outdoor pool, meeting space, restaurant, lounge, Wi-Fi, laundry facilities. 10% discount for senior citizens. Group rates are available.

603 Holiday Dr. (La. 26 at I-10)
Jennings, LA 70546
(337) 824-5280
www.daysinn.com
HAMPTON INN & SUITES
At Hampton, We Make It Happen! 85 rooms, Hot Breakfast On the house, Microwaves & Refrigerators, Pool, Meeting Space, Group Rates Available, AARP/AAA
311 W Fred Ruth Zigler Memorial Dr.
Jennings, LA 70546
(337) 824-2699
1-800-Hampton
www.jenningssuites.hamptoninn.com
MOTEL 6
60 rooms near main I-10 access (Exit 64 South) with adjacent restaurant. Pool, laundry facilities & Wi-Fi.
607 Holiday Dr. (La. 26 at I-10)
Jennings, LA 70546
(337) 824-8589
1-800-228-5150